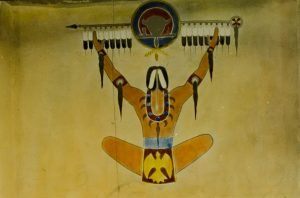 "echoes" exhibition opens at the Seton Gallery of the Academy for the Love of Learning with a (free) reception on Sunday August 13 at 2:00 pm. The show features images of 1932 paintings by "Kiowa Five" artist Jack Hokeah used to decorate a historic building at Seton Village. The Academy is located 20 minutes from downtown Santa Fe, on Seton Village Road, accessed via the Old Las Vegas Highway.
Ernest Thompson Seton commissioned a series of 12 large murals plus many smaller ones from the highly regarded Native American painter Jack Hokeah. Time and rugged weather has destroyed much of Hokeah's work. This exhibition documents Hokeah's extraordinary talent through photographs of his paintings in their original and current (quickly disappearing) form.
Included in the afternoon programming will be a performance by Dancing EarthTM Indigenous Contemporary Dance Creations.