My work in non-fiction, fiction, and photography comes about as a response to the massive, intentional attack by our civilization on oceanic, terrestrial, and atmospheric systems (the Anthropocene era). This destructiveness of habitat and species arises from the belief that we are separate from nature and thus immune to the laws of physics and biology. Generally True Patterns is a philosophical refutation of that mistaken belief. Actually, physical, living and social realms are inherently connected over vast time. The film Ernest Thompson Seton and the Exploration of Canada's Fabled Aylmer Lake chronicles an Arctic expedition at the dawn of what became 20th century environmentalism. The essays in the Home section are more temporal in spirit, images in words and pictures of the now. The Prairie Suite novel is about the future, the dire tomorrow that could result from a failure to aggressively forge a healthy relationship with nature in our own time.
Taken together, these approaches define what I think of as radical natural history, supporting the premise that what we do and how we are in the world really matters to our moral and physical survival. Socrates held that the only life worth living is the examined one. The dictum of the radical naturalist is that the life worth examining is the one in lived in relationship to all other living beings. We must fight to preserve that life in whatever way we can.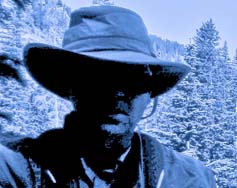 Writer, historian, photographer, and life-long environmentalist/naturalist David L. Witt is the author of several award winning art history books, holder of degrees in political science and systems philosophy, founder of the New Mexico Art History Conference, participant in two Arctic tundra expeditions, former curator of the Harwood Museum of Art (Taos) and is currently Seton Legacy Project Curator at the Academy for the Love of Learning (Santa Fe).
All site Text and Photographs Copyright David L. Witt